Mobile Directory

EDC Mobile Directories provide an effective touchless option for your interactive (touchscreen) directory. By scanning an on-screen QR code, your visitors can send content from your digital directory to their mobile device.

Anti-Microbial Film

A medical-grade anti-microbial agent in EDC's screen protectors inhibits the growth of harmful pathogens that tend to gather and multiply on the screen's surface. EDC's screen protectors also hide reflections that often appear on displays. Their unique matte finish offers unparalleled resistance to scrapes and scratches.
EDC's software development team works with our clients to
integrate unique applications into their digital directory solution.
Donor Recognition for Education
Wall of Distinction
Referred to as the "Key to the World," students can learn of the academic and career choices of alumni who've signed up to participate in the school's database. If they've agreed to it, some alumni have volunteered to become mentors to students who have questions about college or workplace opportunities.
View Article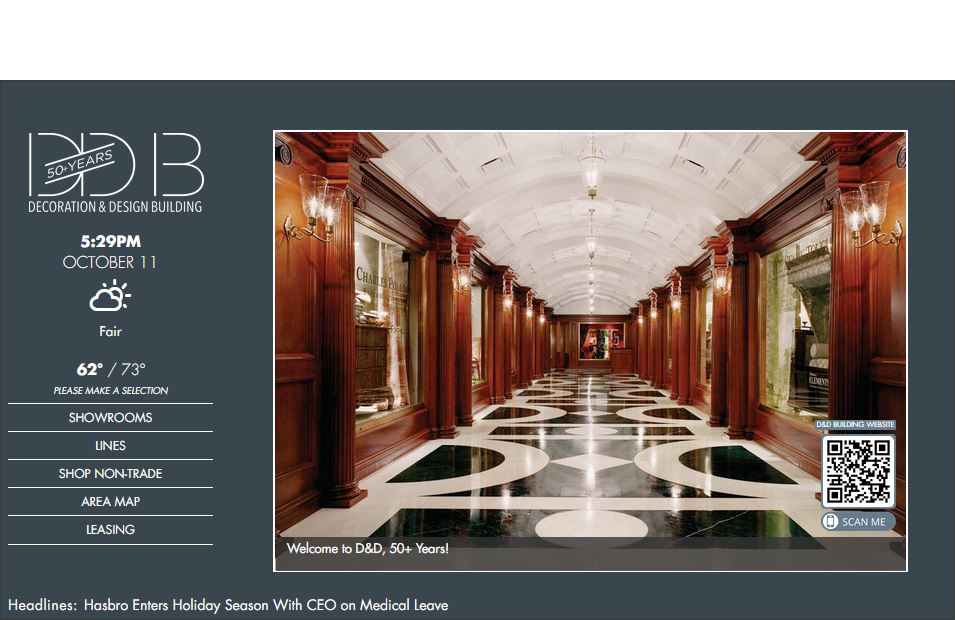 Showroom Directory Utilizing QR Codes
Our client asked us to design a showroom directory that utilized QR codes to enhance the functionality of the system. The home screen QR code takes a visitor to the Showroom's website. A Non-Shop Trade page QR code allows a visitor to book an appointment with a manufacturers representative.
WHAT IS A DIGITAL DIRECTORY?
A digital directory also referred to as an electronic directory, is composed of a touchscreen or passive display, and a media player loaded with digital signage software. Digital directories display wayfinding information, news, local whether, announcements and events. Touchscreen directories are versatile and can hold many pages of information. A digital directory with a non-touch display, lists a single page with a list of tenants along with various other types of information.
A BETTER APPROACH TO HOSPITAL WAYFINDING
More and more hospitals are incorporating digital directory systems into their visitor wayfinding strategy. Healthcare complexes are large spaces that can be difficult to navigate for those unfamiliar with the facility A digital wayfinding system can assist both patients and visitors in finding their destination. A digital system typically utilizes 2D or 3D maps and highlighted paths to figure out how to get where they need to go. A visitor can even scan a map's QR code with their mobile device and take the information with them.
DIGITAL DIRECTORIES ARE WORTH THE COST
In today's world, the public is now used to receiving most information in digital format. Individuals now expect that information will be available on some form of a digital display screen when visiting office buildings, medical centers, government buildings and university campuses. The cost of purchasing and installing a digital directory is comparatively small when taking into account the ease of updating the potentially large amount of valuable information delivered to the user.
HOW TO SELECT A DIGITAL DIRECTORY VENDOR

Most property managers will search for a digital directory company by using Google to find a company that sells digital directories. They will find only a few established companies is this industry. EDC will be one of them. That's because we're a company with more than 20 years of experience and thousands of satisfied customers. Our small group of competitors will generally provide similar computer hardware and software to operate the digital directory. But there are some key differences. For instance, the directories generally need to be housed in a secure metal enclosure and engineered for easy access to the equipment for servicing. EDC designs and manufactures its own enclosures using commercial grade stainless steel and aluminum. Some of our competitors take shortcuts in this area due to the higher cost. Please note some other points to look out for when shopping for a directory.

The vendor claims his higher prices are somehow justified because there will be a lower total cost over the product's life
Tries to upsell you a host of "entertainment/information" packages you don't really need or want
Tries to sell you an onsite service package upfront to inflate the total sales contract price
The vendor does not have a nationwide service team
These are just a few points to consider when making a digital directory purchase.